We're honored & excited to join our BFF, Mindy Smith, in Knoxville, Tennessee for her show at The Open Chord on June 22nd! For ticket availability & purchase, visit: 6/22 - A Night of Mindy Smith & BMT!
Mindy is embarking on "A solo acoustic tour celebrating the 15th anniversary of 'One Moment More' through stories and song." Please visit mindysmithmusic.com for all the latest & be sure to pick up her Exclusive LIMITED EDITION reissue of "One Moment More" on 180gram Coke Bottle Clear vinyl autographed by Mindy.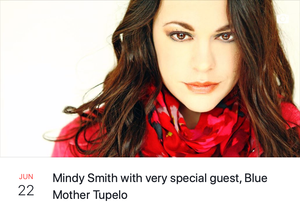 Our friendship began back when we were all living in Knoxville & there's a sweet, exciting history for Mindy & her music as well as between Mindy & BMT. Mindy has kindly asked us to JOIN her on this date at The Open Chord, the only 1 on this tour for which she has a special guest!