SATURDAY, MAY 19th! BMT is LIVE in Concert at this awesome, SOULFUL Music Venue! Plus, there's BBQ @ 7pm (EST) when the doors open. Don't be late for this show!! It's gonna be a great big blast!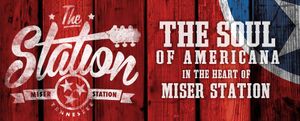 COVER: $20 (cash at door)  | DOOR & BBQ TIME: 7:00 PM EST  | SHOWTIME: 8:00 PM EST 
HOW TO ATTEND: 
1. To assure seating either send your RSVP request via email to TheStationTN@gmail.com and we typically reply confirming your RSVP within 24 hrs, OR 
2. If you don't have an email you can text or call your RSVP request to Sarah at 865-603-8676. We reply soon as possible to confirm seating is available. Shows often sell out, so if you're unable to make it just let us know ASAP. 
3. You can show up without an RSVP if you prefer, and we'll let you know at the door if we have available seats, but shows often sell out so it's best to RSVP. 
PRE-SHOW BBQ: 
We start smoking pulled pork BBQ early day of show so it will be ready at 7:00 pm when the doors open. Be sure to BYOB or drink of choice, and feel free to bring a side dishes or desert to share if you like but it's not necessary. We're not a restaurant, but just a group of like minded folks who enjoy great music and smoked BBQ! We don't sell the BBQ, but we do encourage tipping the smoke master if you decide to eat! 
ARTIST INFO: 
Learn about Blue Mother Tupelo online at https://www.bluemothertupelo.com/ 
FAQ's 
- Is it ok to BYOB or bring in small cooler? Yes only if you're over 21 yrs old feel free to BYOB or drink of choice, and bringing in a small cooler that fits under your seat is fine. Just please drink responsibly or have a designated driver. 
- Does my RSVP or advance ticket reserve me a specific seat? No it's festival seating but any seat is a good seat. 
- Are advance tickets refundable? If we receive your request 7 days before the show date we can refund the ticket amount less the cost of our processing fees. 
- Should we bring our own chairs? No, we have plenty of seating. 
- Can we bring chips, snacks, or side dishes to share? Yea sure several people do, and it's always appreciated, but not required. 
- What's the address? 4206 Miser Station Road, Louisville TN 37777. 
- Do you have a restroom? Yes 
- Is The Station a smoke free venue? Yes, smoking is only allowed outside, and far enough away to not bother guests. 
- Can we bring the kids? Keep in mind some folks bring adult beverages, but The Station's certainly not a bar environment. but rather a listening room. We must respect folks paying to listen to the music, so we prefer kids must be 12 yrs or older to attend our shows. That said we're reasonable folks so just contact us if you need to request an under 12 exception. 
- Can I cancel after sending my RSVP? Yes, shows often sell out so please cancel ASAP via text or call Sarah at 865-603-8676. 
For more info please email TheStationTN@gmail.com 
If you don't have email you can text/call Sarah at 865-603-8676.