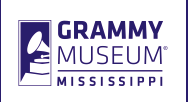 GRAMMY Museum Mississippi will officially open its doors to the public on Saturday, March 5, 2016, in Cleveland, Miss.

We are so excited to Celebrate with aLL Y'aLL in Cleveland at
AIRPORT GROCERY with a show of our Original Music.

The opening of GRAMMY Museum Mississippi will mark the first GRAMMY Museum to be built outside of Los Angeles. Visit www.grammymuseumms.org for more information.

Music starts at 8:30 pm (CST).
Awesome delta food & vibes aLL Day Long, aLL the Time.